My chosen focus is cows. This is generally not expected, and the reactions once people realize it are sometimes not expected either. Someone said to me the other night at the artwalk, "well it doesn't matter that you can only do one thing, you do that one thing really, really well."
I find it interesting the way people view what I do. Often they don't realize I can paint other things and choose to focus on this one, which simply put is because cows make me smile, and I like to show them as individuals instead of a herd. OK, but does it go further than that? Actually it does, so I've been doing a little deep thought about why I do what I do. Why do I paint cows instead of landscapes or still lifes for instance?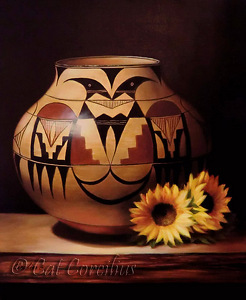 It is my passion to paint, finding the right subject, taking the reference photo, composing exactly what part of that image will become a fine art oil painting. They happen mostly to be cows, a subject I enjoy every aspect of capturing.
I get to go out for drives in the back country, walk in fields where all I can hear are birds, wind, an occasional moo and my own footsteps in the grass. OK sometimes also chewing, depending on how close I am to the cattle.
My chosen subject could be landscapes, but for me, that beautiful scenery just doesn't give back like the cows do. It can be peaceful, it can even be breathtaking, but it just sits there. It does not show emotion, attitude, nor does it make me smile with amusement. Scenery is not interested in me, it doesn't interact, and the same can be said for still life as I've not run across any objects I feel a strong connection with and am moved to capture on canvas. I like the fact that the cows are interested in me, curious, and display such wonderful personality, and my goal is to capture and share what I see in them in each painting.
Another artist doesn't see what I see in cows, but they see it in landscapes, or in setting up a perfect still life. My friend and artist
Cat Corcilius sees it in creating the perfect still life scene with a focus on indian pottery. I love her work, I find it peaceful and beautiful, interesting in how the objects are chosen and placed, and she obviously 'feels' a connection with them which comes through to us as we view her work. Although this is her focus, and she does it really, really well, her skills as an artist are not tied to this subject matter any more than mine are tied to only cows.
I appreciated the meaning of the visitor's comment, they were complimenting what I do, but I also hoped they realized it is not because it's the only thing I can paint, it's that this is what moves me, it is the moment I want to capture, the thing at this time that I want to share.
If you are a collector of art, established or newly considering, this is what I suspect applies to most of the works you connect with personally, it was painted by someone who connected with it first and was moved to paint it, and that thread ties you all together, artist, subject, collector.