Show Blog Widgets
Why I work from my own original photographs
Not long after I discovered the simple fact that I needed to paint, I also discovered that I needed to take my own reference photos. Why? Because once an image is created, copyright of the creator is established, published or not. Copyright must be transferred in writing for one other than the creator to obtain it.
This means that photos out of magazines, calendars and online, unless otherwise stated, are someone elses intellectual property, and to use them is a violation of copyright law. This copyright protection applies to photo images, and images of artwork as well, so a 'derivative work' of either someone else's photo or painting is copyright infringement.
(Below is a photo I took in Ramona, California, in March of 2007, on the beef cattle ranch of a friend.)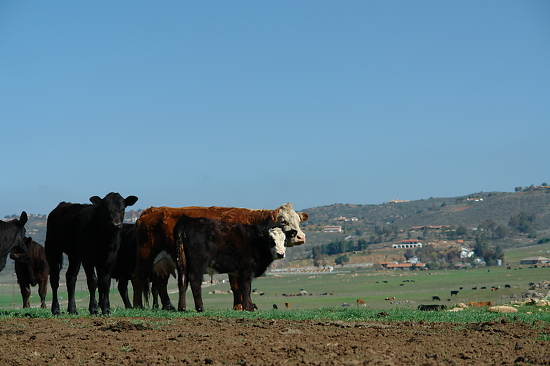 OK, that made sense, after all it meant my own images would be copyright protected as well, so I did some research and bought a nice digital camera, and the rest is history! Taking my own reference photos, and the fact that I don't paint the same image repeatedly, means that my clients are assured of owning 100% original works. From the initial capture through the camera lens, on to the rich buttery oil paint I work with to translate that initial introduction to the scene or animal onto canvas it's all my original work.
(Below is the same image as above, cropped to the part I wanted to paint. I love this composition, and it's such a small part of the original photo it takes practice to find these little jewels as you look at the whole picture, but that's part of my process and I love it.)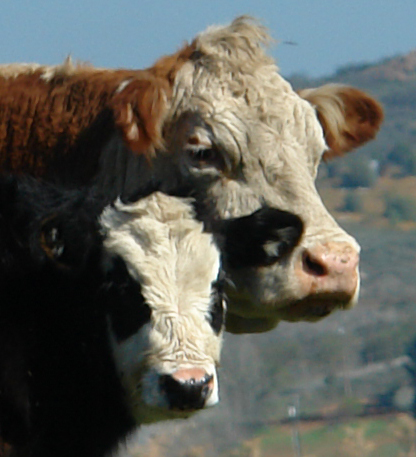 There are actually a lot of photos available to artists in the public domain, and this is a viable option that many artists choose as a means of gathering source material, it's a matter of process and personal choice. For me that doesn't work, it means other artists can also use the same image, and you might find the same composition on another artist's website in their style, and that's just not my personal preference as an artist. The people who respond to my work are very important to me, and I think they appreciate knowing that I work from my own source material, and the composition they own will not appear somewhere else as painted by another artist.
(I've painted this image two times, once as an 8"x8" study, and as an 18"x18" more detailed painting.
This is the 18"x18" painting, completed in 2007.)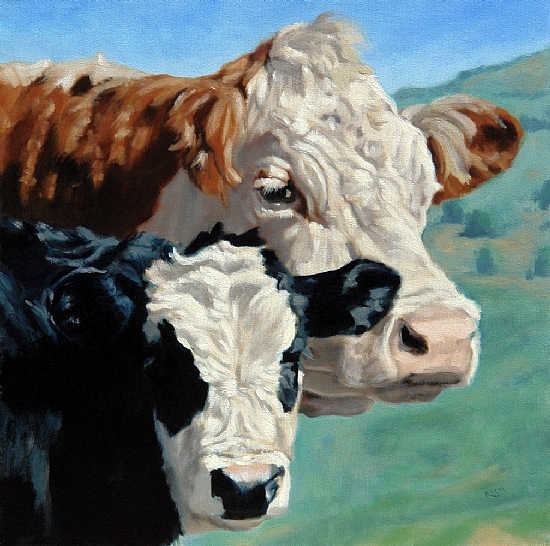 I found one such exception when I ran across the piece on the left by Linda St. Clair on her website in the "new work" category the other day, it made me stop in my tracks and ask, if my clients see this, will they wonder if I copied this highly successful artist's piece? Although the painting styles are different, and some of the colors, it still struck me as unusual. They are so similar I understand how there could be confusion. Isn't this a remarkable phenomenon?
Left: "Yes sir, that's my baby" Linda St. Clair, 2011 Right: "She Takes After Her Father's Side" Denise Rich 2007,
first appeared on my first blog in 2007.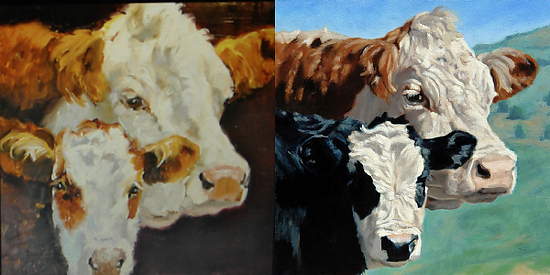 I realize images of cows can often be similar, they have very distinct ways of 'posing' and expressing themselves and I have on occasion seen things that closely resembled my work, but still had enough individuality to make it clear that it's from different source material. I think it's an interesting point to show our similar paintings together with what must be similar reference, and have emailed Linda St. Clair a request for her reference material, which I will post here as soon as I receive it.
Because I work from my own photos, and can produce dated, original source material for each of my cow paintings it is a rare situation indeed, and that's why I do it. That and the love of being in the field with the cows, experiencing the sights, sounds and yes, even smells, which all come back to me when I look at the photo as reference in the studio.
It's what I do.