Paintings in progress and studio notes from fine artist Denise Rich, specializing in cow paintings and commissions from client photographs.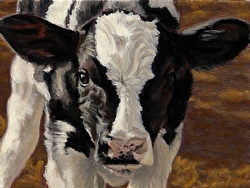 In between commissions drying for their next stage I did get this new painting finished, it's one I've been wanting to do for a while now. I can't resist the newborn calves, the ones that are just hours old. They have that tell-tale
confused look, and who can blame them?
This little guy was not entirely steady on his feet, but doing alright. I just love the eyes!
Comment on or Share this Article >>