Paintings in progress and studio notes from fine artist Denise Rich, specializing in cow paintings and commissions from client photographs.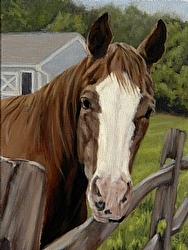 One of my collectors commissioned this painting as a gift for Christmas this year. This is Cheeca, an older guy who has been loved by his family for many years. I used two reference photos for the finished piece, one for the horse and the other for the background. Commissions of family dogs, cats, horses or ....cows!... make wonderful, one of a kind, thoughtful gifts that last a lifetime and then pass on as family heirlooms.
Comment on or Share this Article >>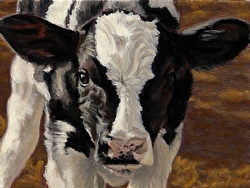 In between commissions drying for their next stage I did get this new painting finished, it's one I've been wanting to do for a while now. I can't resist the newborn calves, the ones that are just hours old. They have that tell-tale
confused look, and who can blame them?
This little guy was not entirely steady on his feet, but doing alright. I just love the eyes!
Comment on or Share this Article >>
I'm still working on a few holiday commissions. I have been, as usual, emailing updated photos of the progress to those who have commissioned the works, but won't post them online for all to see until the holidays are over, I don't want to ruin anyone's surprise!

One of the keys to keeping up with new works while I'm busy with commission work is to work on several pieces at one time. This both insures a fresh eye as I move to a different work in progress, and also makes it easy to avoid overworking any painting. My works typically take several applications of paint. Long ago I used to work on only one painting until it was completed, which at times resulted in frustration working over an already wet surface. The canvas can only take so much wet paint at a time, then you are just spinning your wheels so to speak.

As the years passed and many paintings later I now work on several pieces at a time, once I have covered a painting to reach the next stage of it's progress, I can put it aside to dry before moving on to the next step, and take the opportunity to work on another one during that time.

I will post some of these new works soon.



Comment on or Share this Article >>