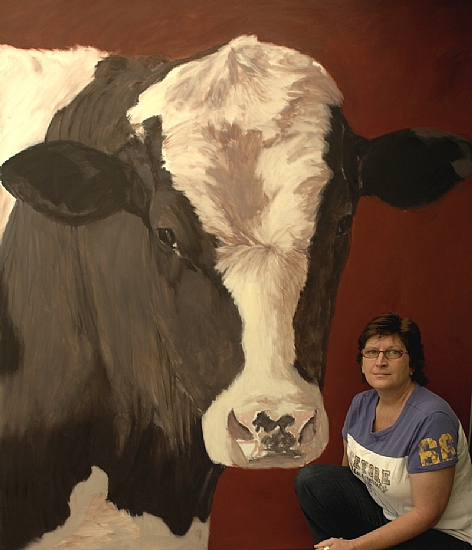 It's a new thing for me to paint this large, it's also a good thing and I'm having a tremendous time doing it!
Nothing I would have thought to do unless asked, of course if not in a gallery with appropriate space where
would I put them anyway?
It's not finished yet but you can see that it's taking shape.
A little about this individual, I took the reference photo for this painting at the same photo session
that produced "Whispering Sweet Nothings" and this is the Bull shown in that painting as well.
He has great swirls and cowlicks, and the lighting showed every one.
This painting is 72"x84", that's six feet wide by seven feet high!
A little about the process of painting this large and how it is different from what I usually do,
normally I mix my colors with the brush on the palette, and keep mixing as I go along. On a painting
of this size I am mixing large piles of paint with a palette knife first, in order to move the painting
along at a faster pace, it would take forever if I didn't make this adjustment.
I will be posting more progress photos soon.