Anyone who thinks being an artist isn't really work has never gessoed and sanded a six foot by seven foot canvas! Actually, while this new project painting three huge cows has been more physical than any I've ever done so far, it has also been more fun and rewarding, and after all of these years painting, I've learned a lot.
The first thing I learned is where on earth I could get a canvas of that magnitude, fortunately for me I live in San Diego County, home of the Giant Canvas Company. Owner John Lidot doesn't usually make them quite that giant, but worked with me. The second thing I learned is that a giant stretched canvas can absolutely double as a sail, this nugget of info came forth as Mr. Rich and I watched one of the three sail out of the back of the truck on the way home from the Giant Canvas Company!
Yeah, I know, but they are pretty heavy and we didn't think....
Another interesting fact is this, I don't care how much you think you know what six foot is, or how tall seven foot is, you can't possibly imagine how huge it really is until you have stood next to a pristine white canvas of this size with a brush in your hand, reality check!
On that note I have also learned that I have become quite confident over the past twenty some years of painting, and that hurdle was overcome with ease, I just jumped into it and got busy, soon it seemed as if this was what I was always meant to do. I remember well being in art class and being intimidated with the 24" x 36" canvas before me, well now that seems like a mere postage stamp in comparison!
This is the third 6'x7' painting in progress, a calf is always cute, a calf with a head that measures three feet from top to bottom simply cannot be ignored!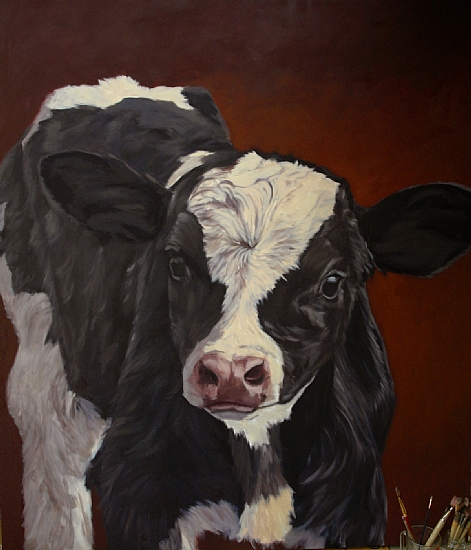 You can see some of my brushes in the bottom right, they are a lot
larger than they appear!
This painting and the other two in this series are coming soon to
Alexander Salazar Fine Art, located on 7th and Broadway in downtown San Diego.