My small collector base isn't due to fewer collectors, on the contrary the number has grown nicely in recent months, it's got to do with the age of my most recent collector.
Meet Emma, a sophisticated appreciator of original art, at the young age of seven! My little Holstein calf painting that has been on the home page for a while caught Emma and her Father's eye, and they have decided to make it a part of their home.
Emma is excited about her new acquisition, and I'm so pleased that she and her family will be enjoying it in person soon.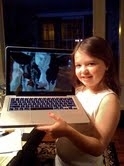 Here's Emma looking at her new painting on the laptop, anxious to see the real thing.
I don't know whether or not Emma will be taking this with her when she leaves for college, but one of the great things about an original oil painting is it will bring enjoyment in a family for generations, someday she may be passing it on to her grandchildren. Congratulations Emma, I hope you love it!