It really made me feel so good when the winner of my last contest said this. It was a random drawing, and I had no idea what I would find at the other end of that slip of paper when it was drawn out of the bowl.
I called her to inform her of winning. She had forgotten entering, having come to my website by way of
Real California Milk
, voting for her favorite Happy Cow Kirsten in the California Milk Advisory boards recent and highly entertaining campaign!
I was able to jog her memory and next thing I know I'm painting her precious rescue Pekingese dog Gracie.
Erika says of Gracie:
"I am 61 years old and I live alone with my Peke "Amazing Grace". I got her from a Pekingese Rescue and first fostered her and then I could not let her go because she was the most precious thing in the world."
Here is the finished painting: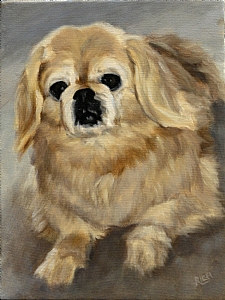 Erika's comments after I emailed a photo of the finished piece:
:Gracie's painting is beautiful and it looks just like her. I forwarded it to my daughter also and she loved it too. It will be something to cherish for a long time to come.
Thanks again for picking me as your winnner, I am still so excited because this is the first thing in my life that I have ever won."

How fun it was for me to be able to give Erika something she will cherish, and always have this
special painting of her precious Gracie.

Best wishes to you both Erika and Gracie!
You could be my next winner, but only if you enter! Find the Fast Track to entering my latest contest
here
.