A recent commission included my taking photos of the subjects, Haley and Lucky,
Sam the Cooking Guy
's dogs.
It's challenging but fun to work with animals, and usually involves taking a ton of photos, eventually you'll get the shot! If you are really fortunate the owner will be able to help you get the shot: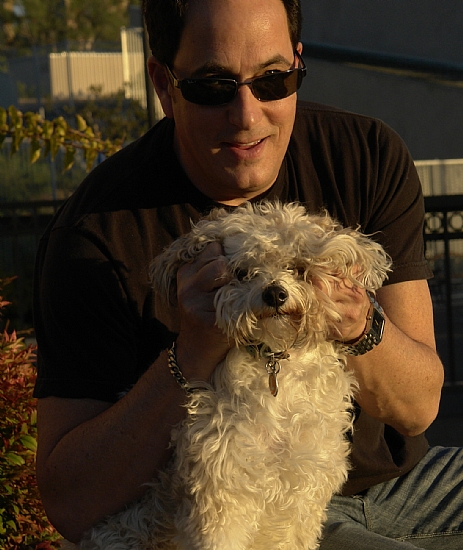 Sam helping Lucky pose-I appreciated the help, but this wasn't quite what I was after!
After the photo session I emailed several options to Sam and his wife Kelly, and they chose the
two that they wanted me to paint. I delivered the paintings, and the highest compliment
was payed to them, when they caught the attention of Lucky. As soon as Sam put them up
on a mantle to see how they looked, Lucky climbed
up to the back of the couch to take a better look,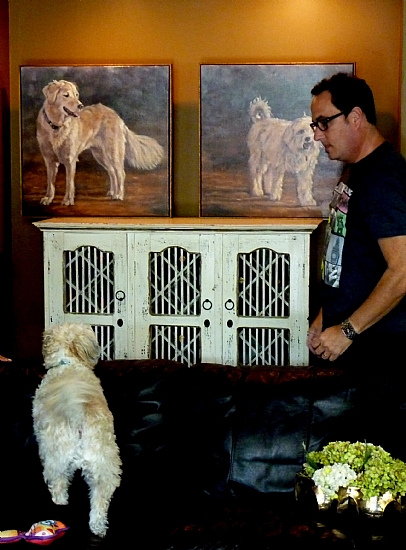 He stared at both paintings, then settled in to view and growl at his own.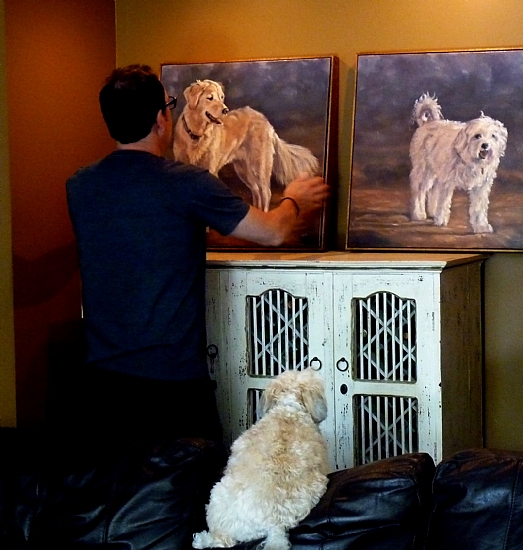 I don't know if he actually recognizes himself and Haley in the paintings, or just knows they are
dogs, but Sam and Kelly said he barks when he sees himself on television too.
It was decided that the first location didn't have enough room for the paintings, here is a photo of Haley
and Lucky's portraits where they are now in their new home: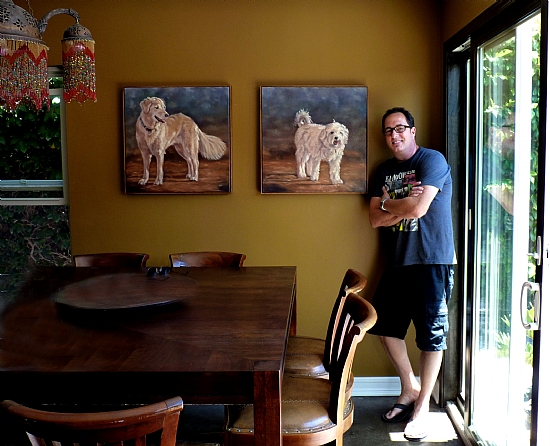 Sam started out with a 2 minute cooking segment on local news which grew to a regular half hour show (just aired the 100th episode). The show has won 12 Emmys, and become a national series on Discovery's Health channel, his 3rd
book
is due out in February 2011. I have the first two cookbooks, and love them!
If you watch 'Sam the Cooking Guy', you are familiar with Haley and Lucky, as they are the most beloved dogs of Sam and his wife Kelly, and wander freely on and off camera during the show. They made excellent subjects!
Thank you Sam and Kelly for trusting me to paint your cute dogs!