You are searching online for a cow painting. You love cows or were raised with them, or perhaps your experience is more like this recent visitor to my website:
"I'm a city girl, I work in the financial industry and its busy and noisy and stessful and when look at a cow for some reason it just calms me down."
You find there are a lot to choose from, in different styles and mediums by as many artists. How do you make a wise purchase?
Whether or not it's a cow painting you are looking for, Kristin Hoerth, the Editor of Southwest Art Magazine suggests looking for what moves you:
Editor's Letter-Only The Best:
"Beginning collectors can easily become overwhelmed as they try to understand everything about art all at once. As newcomers realize how much there is to discover—various art movements, terms, styles, and so on—they sometimes get lost in the process and forget to simply notice what moves them."
I thought that was brilliant advice to anyone looking to start collecting art. Look at a lot of art, with the internet at your fingertips you can expose yourself to as many choices as there are artists. Make a list of your favorites, and bottom line, look for what moves you.
There are very many painting styles, and an established artist's style can be recognized. I'm going to get you started with occasional blog posts spotlighting a different artist. Frequently, but not always, it will be an artist who paint cows. Here's my first Spotlight Artist:
If you read some of the art magazines like Southwest Art, Art Collector etc. you are familiar with another well known artist who has put a few cows on canvas, Linda St. Clair, and you will be able to recognize these renderings as classic of her signature style.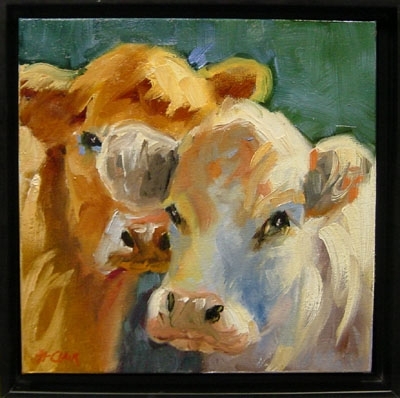 "When Harry Met Sally"
By Linda St. Clair 12"x12"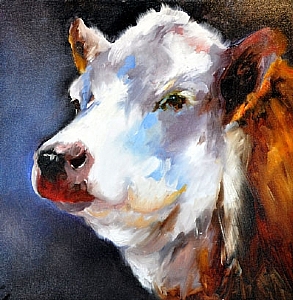 "Out of the Blue"
By Linda St. Clair 30"x30"
"Rosebud"
By Linda St. Clair 36"x48"
What do you see that is similar about these three pieces? A loose, expressive style much different from my own. Linda says of her work :
" The relationships of color, the brushstroke, the thickness of the paint; these are of primary interest. The dance of the yin and the yang of painting excites me; the contrast of dark and light, thick and thin paint, narrow and wide strokes, warm and cool color. "
It's clearly visible when viewing these pieces that Linda has put the time, experience and thought into what makes her paintings her own style, and she has a very substantial body of work that backs her statement up.
This is a sign of an established, collectible artist. If you are collecting art, or thinking about it, watch for consistency in an artist's work, as well as a visible, recognizable style. If you are an aspiring artist this is what you are working toward.
I want to help you see what's out there, and when you decide you have found something that moves you it can be with confidence that it is a wise acquisition.
Whether you find a painting that moves you in my portfolio of cow paintings, or in that of a fellow artist, follow your instincts and don't let that special piece get away. I've had a few very disappointed clients miss out on what they had their heart set on.