You can have the best camera equipment, you can be
a professional photographer, but if you don't have patience, forget it!
Tip number one, expect to be extremely patient.
When it comes to getting reference of animals, the number 1 most important thing for me is
Patience!
I'll hang around for hours waiting for the animals to get comfortable with my presence.
My key thing is let them be themselves, not posed, that's how you get the personality.
For instance when I go to the dairy to take reference photos the part I look forward to the most is
visiting the calves, but they can be super cautious and usually all run away when I approach them.
Fortunately, their natural curiosity will get the best of them, if I hang around long enough, and of
course, I do!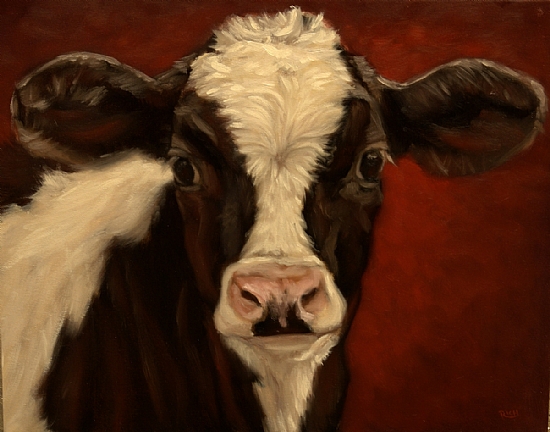 New Holstein calf painting 16"x20".
Tip number 2, be the camera! Don't just wait for the perfect shot, then try to snap it. Animals move unpredictably, and when I first started I lost a lot of great shots because by the time you see it and raise the camera it's too late. Most of my best shots are taken in a series, and most of the time the camera is my eye and my trigger finger is ready to snap instantly.
Tip number 3, use a digital camera and fill that memory card up!
It doesn't cost anything like back in the days of film cartriges and photomat. It's reference, just shoot.
The more photos you take, the more chances that you will get a good shot. I generally take 60 to 100 photos within
an hour on a shoot. It's never too much.
Whether you are taking photos as reference for paintings, or taking photos of your own animal these three tips
will help you get better pictures.