A while back I posted some photos I took during reference collection at a texas longhorn
ranch that I visit off and on. Sometimes, even though I get great reference, it takes me a while
to get around to it between commissions, but the Texas Longhorns are up next.
Here is a 5"x7" of a Texas Longhorn calf resting.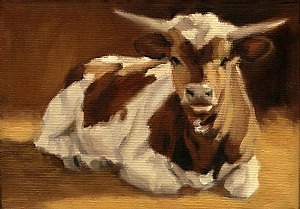 The horns on this youngster are more my speed than the parents, which I admit do make me nervous
when I walk among them. It's not that any individual has ever really threatened me but lets
just say I know they know how to use them, and I have a LOT of respect for that!
Watch for more Texas Longhorn paintings coming soon!