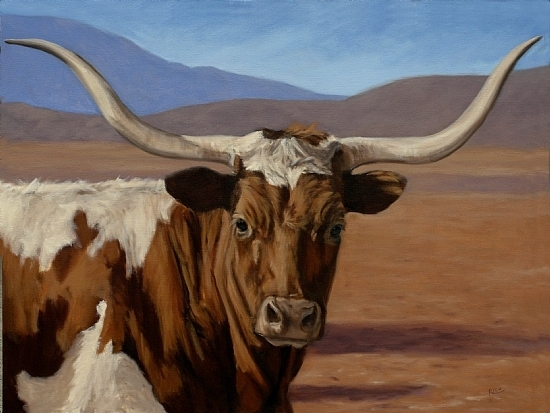 When a collector falls in love with one of my sold works, I have little choice but to disappoint them, because although I can
paint something with a similar feel I don't reproduce a work from the same reference. This Texas Longhorn is an exception in that
I was able to paint the same cow, from two different reference photos taken years apart.
I painted a commission in 2006 of a Texas Longhorn cow, from reference I had taken the same year, and recently a client fell in love with it. Of course it was not available, so I combed through my Texas Longhorn reference and found several with a similar look, from photos I had taken in 2010 at the same ranch.
After selecting one that I thought looked similar, I started to compare the recent reference photos with the sold piece, the color on both cows was the same, then I paid closer attention and realized the markings were the same, it was indeed the same cow as in the sold work, in a very similar pose, but in the new reference photo she was four years older. Perfect! This is the reference I worked from for the new piece.
Perfection! Even though I don't do the same painting twice the client was able to have something very similar to the sold piece she loved, a rare situation indeed!
The unfortunate situation is most common, where a piece is sold and there is no reference that captures that same feel. This is the world of one of a kind original fine art, and is why when you do find something that you love you should not let it go. Unlike
reproduced items there is no backorder or future shipment of the same thing, there is only one.
Recently a gentleman came into my studio, said he would not describe himself as an art collector, but talked of a piece he had seen many years ago and loved, decided to purchase it but when he went back it had already been sold. I thought it interesting that this had occured years ago but as he recalled and talked about it, the disappointment was still there as if it had been last week.
The sadness of this missed opportunity, like a lost love showed me how deep his emotional connection was, I will always remember
that.