Once or twice a year I run a 'Win a painting' contest, with the winner chosen by random drawing.
Entry is simple, just fill out the form. This last contest the entries closed at the end of June, a few complications
delayed the drawing, but here it is:
There is always a story behind the winner, and this time is no exception! When Jordan was notified that he was the winner
he didn't quite recall entering. At first I was disappointed, because a lot of you are anxiously waiting to see if you were lucky
enough to win, so the fact that someone won who wasn't especially looking forward to it seemed like a bit of a let down.
Then I got more of the story, in Jordan's words:
"You cannot imaging how surprised I was to learn I won the painting. The remarkable thing is, the other day I unexpectedly attended an art show at a local pub, where I won an oil painting as a door prize, so this marks the second painting I've won in my life in as many tries. If only my lotto tickets would turn out this way :)

Although I enjoy art I would not consider my artistic tastes to be very sophisticated. I can tell you that I like a certain piece of art, but I cannot begin to explain why. I know that I liked your art when I saw it so I entered the contest. As for how I ended up on your site, I have no idea. I think I just stumbled on it via google and after winning the painting at the pub I thought I might as well put my name in. I can't remember what search strings I used to find it, or what I was originally looking for. This is a little unfortunate considering I studied information seeking behaviour in library school.

Your assistant asked me if I liked cows. To be honest I've never thought much about them. I guess now that I will have a couple of cows staring back at me from my desk I will have plenty of time to think about it. After I got the phone call my mind kept running through a clip I saw on "The Soup"from the show Toddler's and Tiaras where a little girl keeps chanting "I get a cow" :) "

Jordan Drew
After reading this I was just fine with the situation, in fact, it's quite obvious it was meant to be!
Congratulations to Jordan, I'm so glad you won the painting!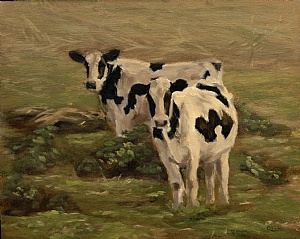 8"x10" Holstein Heifers will be on it's way to Canada shortly and I can't wait to hear what the next
installment in the Jordan acquiring artwork saga will be, but I'm glad to have been part of it.