Somehow I managed to miss blogging entirely in August, so it must be time for an update!
The biggest bit of news is my big cow paintings are back in the studio, having finished showing
at Alexander Salazar Fine Art. This means it's time for a studio overhaul to make room for two
seven foot tall by six foot wide cow paintings! (One of the original three is sold.)
Trust me, it's time for an adjustment anyway. Since I opened the studio here on Main St. things have
sort of evolved without much of a plan. An added couch, a few more easels, making room for
the third Friday art walk guests etc. Now it's time to set it up with a plan. I'll take photos when I'm
finished, I promise! Then again, if you live in or visit the San Diego area, you should come by and
see it in person, just call first to be sure I'm here.
Meanwhile, here are a few small pieces I've painted recently in between working on commissions.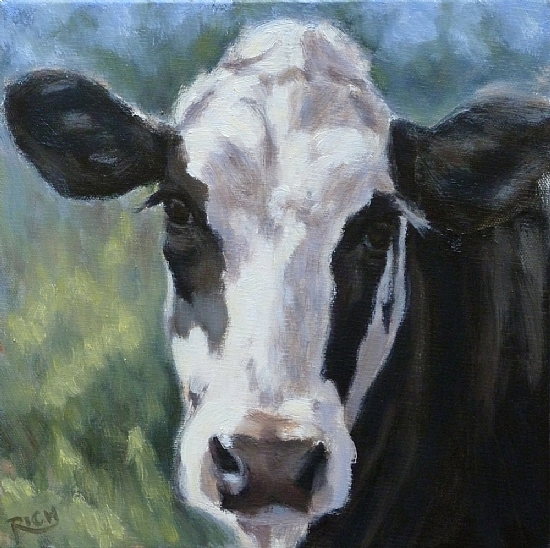 Holstein Cow Portrait 8"x8" I think this is a very pretty cow, with a sweet expression. I knew I would paint her
as soon as I took her picture.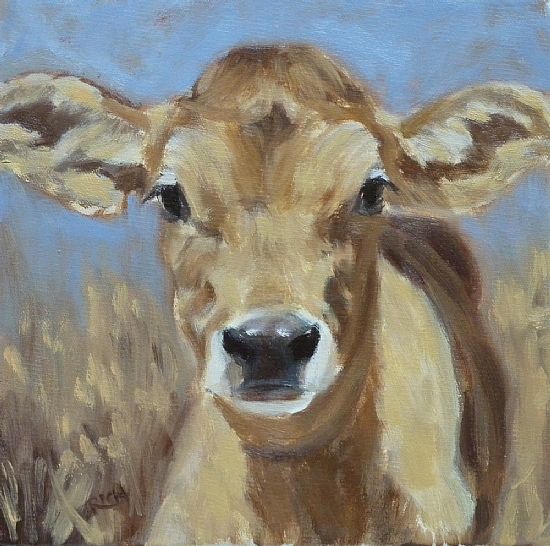 Jersey Calf Portrait 8"x8" How sweet is this face? I love Jersey calves!
Both paintings are already sold, they went to complete a collection of three 8"x8" paintings for
one of my collectors. If you are interested in something similar you can always request it.