The story of Klint, Kole and Kansas:
A polite young man contacted me around October, saying that his mother had admired my work for some time and he and his brother
wanted to get her one of my paintings for Christmas. Being a mother myself, I was quite touched at their thoughtfulness, having thought far enough in advance to carry this out. It turns out they raise Herefords, so I asked for a few photos from their ranch. One of them was
of this great bull named Kansas, and I knew immediately I had my subject.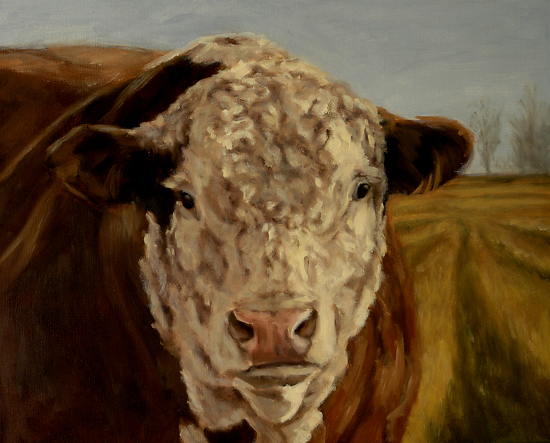 Another one of the photos they sent gave me an idea of what the landscape around their property looked like, so this is what I did in the background.
Were they able to surprise their mother? This is what she said in an email to me shortly after Christmas:
"It really touched me when I open the gift....because I did not expect anything like this from them. I always believed that a present represented how well a person knows that person. That is why it has been important to me; not how much is spent but what you buy to show how well you know that person and what is important to them. Anyway as I told my boys " It was the best gift I had ever received in all my life and I don't know how they will ever out do this one"