I truly love digital photography as a means of collecting photo reference. I can take hundreds of photos in one session, and often I'm still finding interesting compositions the third or fourth time looking through them. If you think about it, portraits you can take successfully all day long, but groupings that are successful the way they naturally occur (without the help of photoshop) is not as common, so you have to look for it a little harder.
This photograph of cows is an excellent example of such a find. Here is a grouping of mixed cows, the entire photo as taken.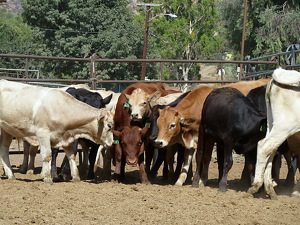 A lot going on here, too much for one painting, at least for me. I did however notice something in this picture. I have actually cropped this into a few different compositions that will make unique paintings, the first one I chose was this one:
I was looking for something that would be stunning in a larger format, and this composition, for many reasons, stood out to me. Here is the finished piece, "Mixed Cows" 36"x72"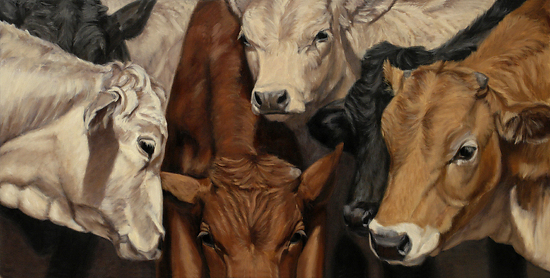 I am partial, but I just can't tell you how much I love this piece personally! I hope you enjoy this painting, and seeing how it came to be.